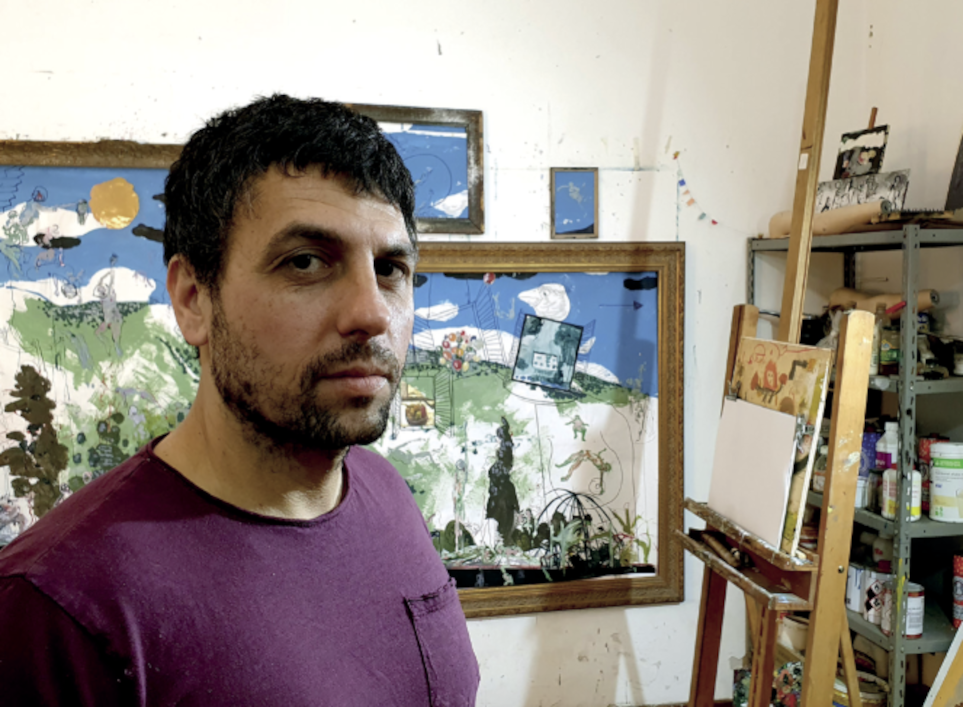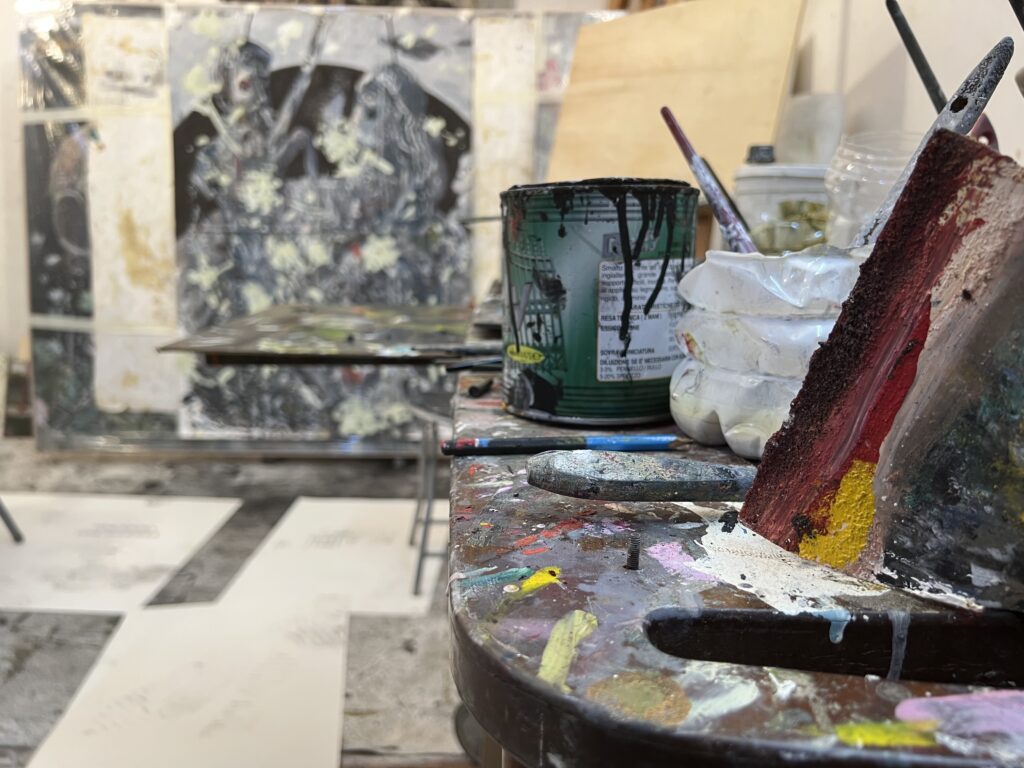 EN
ESSENTIAL
He was born in Palermo in 1976, where he lives and works.
His training is linked to the world of restoration and antiques, in fact, his has a twenty-year experience in this field. He formed his style first in his hometown, Palermo, and then in London, the city which gave him a spirit of noir lines. His artistic sensibility is the result of a clash between the Sicilian heat and the cold smoke of London. Sicilian landscapes marry the threadlike figures that lead us back to the circus and acrobats. Rivers of characters crowd into his works, each manifesting his double, his joys and his anguish, a transposition of the human condition in its omnipotence and transience. Schifano does not renounce to the figurative technique, rather makes it his pictorial interpretation key, through a free and not very academic interpretation that gives his works colours with infinite chrome plating, slender and thin figures, hats, merry-go-rounds. He participates in various exhibitions including Artisti di Sicilia in Noto, curated by Vittorio Sgarbi. Some of his works are exhibited in the collection of: the Castle of Fumone, the MacS (Museum of Sicilian Contemporary Art of Catania), the Rende Museum of Cosenza andthe Palace of the Province of Cosenza. Many art critics have been interested in his works, including Claudio Strinati, Andrea Romoli Barberini and Anthony Molino. Among his personal exhibitions Watercolors curated by Titian Studio in 2010, London Titan Studios ;Dentro il Cerchio at the Chamber of Deputies in Rome in 2016. Recently in 2021 he participates in the WAAG group show on the occasion of the bicentenary of the Greek revolution, curated by Francesco Piazza, first set up at the Byzantine museum in Thessaloniki and in the same year in Palermo at the Belmonte Riso Museum. A prestigious experience is that of the artistic residency of 2022 at the Museo Trame Mediterranee-Fondazione Orestiadi in Gibellina. This marks the beginning of a genuine inner movement which will translate into intense artistic results and which, in 2023, will bring him to the spaces of Palazzo Beneventano for Lo Magno artecontemporanea, with a one-man show "About Flowers": Starting again from flowers, from Beauty, from the materialistic disillusionment of our existence.
IT
ESSENTIAL
Ignazio Cusimano nasce a Palermo nel 1976, dove attualmente vive e lavora.
La sua formazione è legata al mondo del restauro e dell'antiquariato, difatti, lasua, è un'esperienza ventennale in questo campo. Cresce artisticamente primanella sua città natale, Palermo, e successivamente a Londra, città di adozioneche conferisce all'artista uno spirito dalle linee noir. La sua sensibilità artisticaè il risultato di uno scontro tra il calore siciliano e il freddo fumo di Londra.I paesaggi siciliani sposano le figure filiformi che ci riconducono al circo e aisaltimbanchi. Fiumi di personaggi si affollano nelle sue opere, ognuno ma-nifestando il suo doppio, le sue gioie e le sue angosce: una trasposizione dellacondizione umana nella sua onnipotenza e caducità. Schifano non rinuncia allatecnica figurativa, ma ne fa bensì la sua chiave di lettura pittorica, attraversoun'interpretazione libera e poco accademica che dona alle sue opere colori dallecromature infinite, figure esili e sottili, cappelli, giostre.Partecipa a diverse mostre tra cui Artisti di Sicilia a Noto, a cura di Vittorio Sgarbi. Alcuni dei suoi lavori fanno parte della collezione del Castello di Fumone (FR), della collezione MacS (Museo d'Arte Contemporanea Siciliana) di Catania, del Museo Rende di Cosenza e del Palazzo della Provincia di Cosenza. Dei suoi lavori si sono interessati critici e storici dell'arte, tra cui Claudio Strinati, Andrea Romoli Barberini e Anthony Molino. Tra le sue mostre personali Watercolors a cura di Titian Studio nel 2010, Titan Studios Londra; Dentro il Cerchio presso la Camera dei Deputati di Roma nel 2016. Recentemente nel 2021 partecipa alla collettiva WAAG in occasione del bicentenario dalla rivoluzione greca, a cura di Francesco Piazza, allestita prima al museo bizantino di Salonicco e nello stesso anno a Palermo presso il Museo Belmonte Riso. Una prestigiosa esperienza di residenza artistica quella del 2022 presso il Museo Trame Mediterranee-Fondazione Orestiadi di Gibellina, inizio di un genuino moto interiore che si tradurrà in intensi risultati artistici e che, nel 2023, lo farà approdare presso gli spazi di Palazzo Beneventano per Lo Magno artecontemporanea, con un solo show "About Flowers": Ricominciare dai fiori, dalla Bellezza, dalla disillusione materialistica della nostra esistenza.
ABOUT
WAAG, we are all greeks, 1821-2021, Serradifalco editore
Le cento sicilie il più ibrido dei continenti,
Journal of Italian translation, Editor luigi Bonafini
Oltre la tela, Conversazioni sulla pittura, Mondo nuovo edizioni
Dentro il cerchio, Glifo edizioni
TOGETHER
2023: About Flowers, Ignazio Cusimano Schifano solo show, Lo Magno artecontempoanea_Bassi Beneventano, Palazzo Beneventano-Scicli (RG)
2023: Flora Fauna e Cemento, Museo civico di Noto,a cura di Aldo Premoli; Fiat Lux ,Museo Diocesano di Noto,a cura di Aldo Premoli; Mediterraneo,Acquario Civico di Milano,a cura di aldo Premoli
2022: 30×30 Group Exhibition, a cura di Giuseppe Lo Magno e Valeria D'Amico, Lo Magno artecontemporanea, Modica (RG);
2022: Acque chiare/Acque scure a cura di Aldo Premoli, Museo Civico di Noto, Noto (SR)
2020: Showcase Exhibition 1, group exhibition, curated by Giuseppe Lo Magno, Lo Magno artecontemporanea (Modica)
2021: Showcase Exhibition/2, group exhibition, curated by Aldo Premoli and Giuseppe Lo Magno, Lo Magno artecontemporanea (Modica)
2021: "Le cento Sicilie – il più ibrido dei contintenti", group show, Palazzo Ciampoli di Taormina curated by Diego Cavallaro and Giuseppe Vella
2021: "Le cento Sicilie il più ibrido dei contintenti", group show, Palazzo Ciampoli di Taormina curated by Diego Cavallaro and Tonino Cannata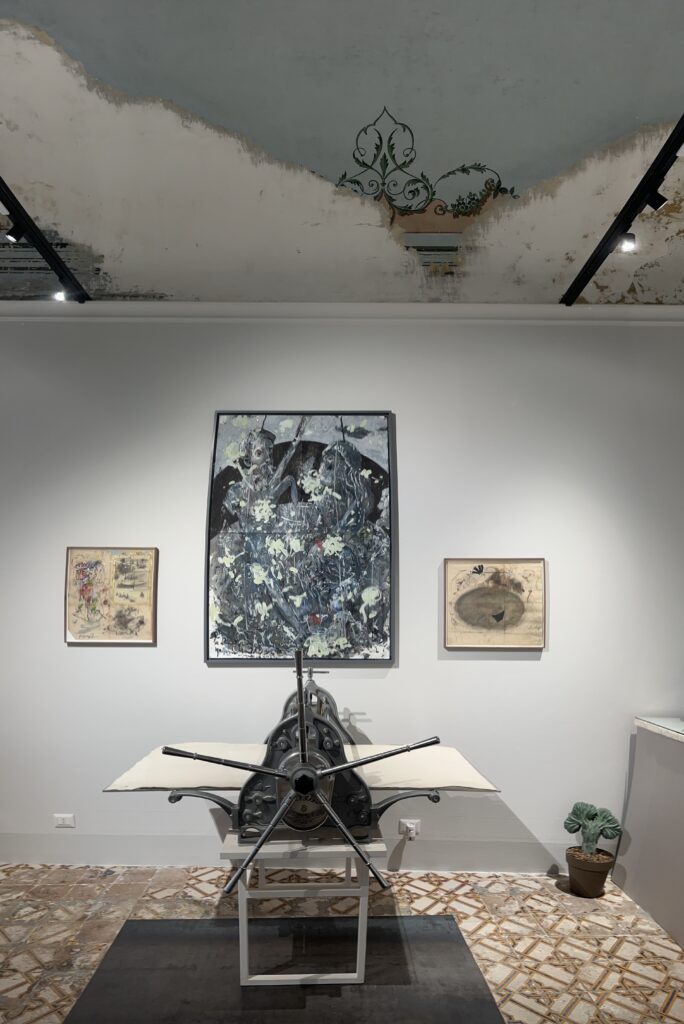 About Flowers view luglio 2023