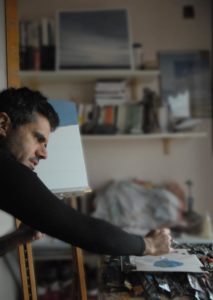 Giovanni Viola nasce a Modica nel 1981. Sin da giovanissimo dimostra un interesse particolare per l'arte e per la rappresentazione figurativa, che coltiva parallelamente alla sua carriera da studente. Consegue nel 2008 la laurea in giurisprudenza presso l'Ateneo di Messina, coltivando nel frattempo la sua curiosità per l'arte sia con la frequentazione di mostre ed eventi culturali che lo spingono spesso a Roma, Torino, Firenze e, per un anno, a Londra. Nel frattempo segue la sua vocazione concentrandosi sia con la pratica del disegno e della tecnica pittorica dell'olio e del pastello, che applica alla rappresentazione del paesaggio della terra dove vive.
Giovanni Viola attenziona la sua Sicilia e la luce che la contraddistingue declinandola con pazienza, rigore e sensibilità in tutti i suoi lavori. Ciò che ci mostra è il corpo, la sostanza della sua terra che, l'impalpabilità delle sue sfumature, rese visibili dalla tecnica a pastello che, con analitica sapienza, utilizza nella figurazione del paesaggio. Dal carattere modesto e schivo, la personalità di Giovanni emerge nel proprio lavoro esprimendo puro amore per l'essenza delle cose, la tranquillità data dalle proprie risorse spirituali, la determinazione e l'assenza di assenza.
Annovera la partecipazione personali e collettive in Italia e all'estero.
L'attività espositiva si intensifica negli ultimi anni, con mostre personali, rassegne collettive e la partecipazione a fiere internazionali di settore.
Oggi studia Teologia presso l'università di Catania, vive e lavora a Modica.
Giovanni Viola was born in Modica (1981), where he lives and works. From a very young age he showed a particular interest in art and figurative representation, which he cultivated in parallel with his student career. In 2008 he graduated in law at the University of Messina, in the meantime cultivating his curiosity for art both with the attendance of exhibitions and cultural events that often lead him to Rome, Turin, Florence and, for a year, to London. In this "travelling time"he follows his calling by focusing on practice of drawing and the pictorial technique of oil and pastel, which he applies to the representation of the landscape of the land where he lives.
Giovanni Viola pays attention to the light of his Sicily, declining it with patience, rigor and sensitivity in all his works. What he shows us is the body, the substance of his land , the impalpability of its nuances made visible in the figuration of the landscape by his analytical wisdom in use of pastel technique.
With a modest and shy character, Giovanni's personality emerges in his work expressing pure love for the essence of things, the tranquility given by his individual skills, determination, spirituality, and the absence of an absence.
He participates in various solo and group exhibitions in Italy and abroad.
Now he studies Theology at the University of Catania, lives and works in Modica.
Together…
2022: "Pastels de l'ame sicilienne", Giovanni Viola Solo exhibition, curated by Ombeline D'Arché, Eric Coatalem and Giuseppe Lo Magno, Galerie Eric Coatalem (Paris)
2021: "La Ferita della Carne e la Resurrezione", Giovanni Viola Solo show, curated by Aldo Premoli and Francesco Brancato, Lo Magno artecontemporanea (Modica)
2010: "Viola su Tela e su Carta", Giovanni Viola Solo show, curated by Giuseppe Pitrolo, Lo Magno artecontemporanea (Modica)